Feet are definitely not a glamorous body part. And I'm okay with that.

I recently read an article online about the various defects of Kate Middleton's feet. They showed the Princess at an event in a beautiful dress with her radiant smile and in bare feet. There was a detailed analysis of all the problems and potential problems she faces with her feet. If anyone read the article — few were interested except for maybe a few podiatrists.
On the other hand when some long distance surreptitious photographs of Kate Middleton's bare chest were published, millions of people were interested. There were big headlines and millions of issues of magazines were sold. A lawsuit was filed by the royal family.
Kate Middleton is a beautiful and elegant lady and by all accounts is doing an admirable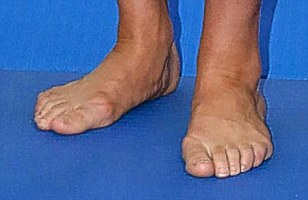 job as a Princess. She has provided more proof — as if we needed it — that the human foot is one of the least glamorous of body parts. And that's okay because if she can show her bare feet to the world with hardly anyone noticing, then our patients do not need to feel self-conscious about coming in to see us for foot problems. Feet are a mechanical marvel and their beauty is more than skin deep!