Often the answer is no. Many people purchase shoe inserts from Dr. Scholl's or even from Costco. And if you have a minor foot problem these can often do the job. But more often these inserts are a waste of money because a well designed shoe will have just about as much support as those inserts. There is also no customization of these insoles so if you have a painful corn on the front of your foot they will not help.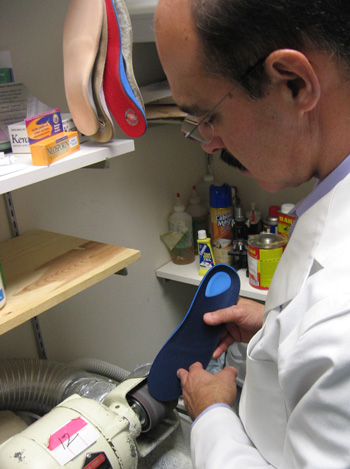 At Austin Foot Health Specialists we offer a full line of shoe inserts ranging from $70 over-the-counter insoles, to $200 inserts which are molded to your foot, all the way up to $460 totally customized orthotics made to molds and measurements of your foot by an outside laboratory.
Orthotics are a particular area of interest for Austin Foot Doctor DPM who has worn them himself since age 12. Austin Foot Doctor tries every new type of over-the-counter shoe insert that comes on the market and selects those which perform the best. He also prides himself on being able to customize over-the-counter inserts to match your foot and to relieve pressure on your corns and calluses. He almost always adds pads and cushions to the insoles to optimize the insoles for your foot. Austin Foot Doctor only recommends custom orthotics if there is minimal chance over-the-counter inserts will not work after examining your feet and watching you walk.
Orthotics are a major interest of Austin Foot Doctor and he is very proud to offer a full range of shoe inserts and orthotics that often cost less than Costco and always do a better job!
Learn more about orthotics on the Austin Foot Health Specialists website. Or call us for an appointment.